Cuddy Farms began because of one unsatisfied customer - me," reflects A.M. (Mac) Cuddy, as he looks back over more than 50 years in the poultry industry.
Cuddy Farms started as a small family business in Strathroy, Ontario. It was there, in 1950, that Mac Cuddy bought a 100 acre farm (40 hectare) and 1,500 turkeys.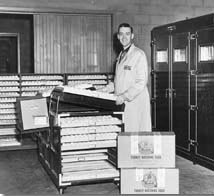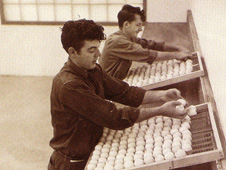 At that time, it was impossible to get a steady supply of healthy turkey poults and Mac recognized an opportunity for Cuddy Farms to fill an important niche in the turkey market.
Since then, Mac not only built Cuddy Farms into the successful business that it is today, but he also managed to change the public's image of turkey from a holiday favourite to a convenient, low-fat meat to be enjoyed year-round. Its sheer versatility turned Cuddy Farms into a leading innovator in the production and processing of turkey and chicken.
The most important of these developments was a simple discovery made by Mac in his early years as a turkey breeder. With turkey hens naturally laying eggs only in the spring, Mac found he could make them believe it was spring year-round by artificially lengthening the days with light. Because of that, Cuddy Farms was able to supply hatching eggs and day-old poults to customers at times of year when competitors couldn't.
This revolutionary concept put Cuddy Farms on the industry map and today, all turkey breeders around the world use the lighting methods discovered by Mac Cuddy more than 50 years ago.